The
white-tailed deer
(
Odocoileus virginianus
), also known as the
Virginia deer
, or simply as the
whitetail
, is a medium-sized deer
native to the United States
(all but five of the states), Canada
, Mexico
, Central America
, and in South America
as far south as Peru
. It has also been introduced to New Zealand
and some countries in Europe, such as Finland
and the Czech Republic
.
The white-tailed deer is tan or brown in the summer and grayish brown in winter. It has white on its throat, around its eyes and nose, on its stomach and on the underside of its tail. The male has antlers. Males weigh between 150 and 300 pounds and females weigh between 90 and 200 pounds.
The white-tailed deer lives in wooded areas. In some areas, deer overpopulation is a problem. Gray wolves and mountain lions used to be predators of the white-tailed deer and helped keep their population under control. But because of hunting and human development, there are not very many wolves and mountain lions left in some parts of North America.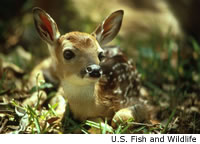 Sometimes a bobcat or a
coyote
will kill a young deer, but people and dogs are now the deer's main predator. Because there are not many natural predators, deer populations can sometimes grow too large for their environment and deer can starve to death. In rural areas, hunters help control deer populations, but in suburban and urban areas hunting is often not allowed and deer populations can grow out of control.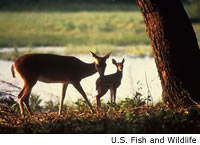 Other things can change deer populations. Disease and parasites like lice, mites and roundworms can weaken or kill deer. Young deer and old deer often get sick and die, especially in the winter. Winter is a dangerous time for deer. Their long narrow legs and pointed hooves make it hard for them to move around in the snow and ice and it is easier for predators like dogs to catch them.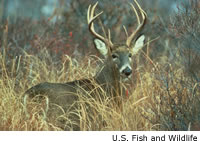 Deer and people are living closer to each other because of human development and growth in deer and human populations. Because humans and deer often share a habitat, there can be problems for both of them. When a deer's habitat becomes smaller because of human development, deer will often eat food from gardens. Deer need to cross roads to look for food and water and are sometimes struck by cars. People can also catch a sickness called Lyme Disease from the deer tick.
When a white-tailed deer is alarmed, it may stomp its hooves and snort to warn other deer. It may also "
flag
" or raise its tail and show its white underside. When a mother deer is running, this white underside can help her fawns follow her.
White-tailed deer are very good runners. They can run at speeds of up to 30 mile an hour. They are also good leapers and swimmers.
White-tailed deer mate in November in the northern parts of their range and in January or February in the southern parts of their range. The female has one to three
fawns
after about six months after mating. Fawns are reddish-brown at birth with white spots that help camouflage them. They can walk at birth and forage for food a couple of days later. They are weaned at about six weeks.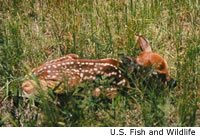 The mother leaves her fawns well-hidden for hours at a time while she feeds. If she has more than one fawn, she hides them in separate places. While they are waiting for their mother to return, the fawns lay on the ground with their heads and necks stretched out flat on the ground. This makes it harder for predators to find them. Female fawns may stay with their mother for two years, males usually leave after a year.